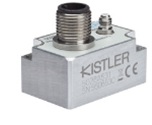 August 2020, MARIETTA, GA ~ Kistler is launching the 5028A – a charge amplifier that uses IO-Link technology to output analog signals from piezoelectric sensors as digital measurement data. You will benefit from the strengths of piezoelectric measurement technology (such as compact design, rigidity and a wide measuring range), but still have the digital advantages of resistance to interference and end-to-end communication. IO-Link technology provides users with real-time data to monitor plant status all the way down to individual sensor or measuring chain level.
The Solution of Choice for Highly Automated Environments
The Kistler miniature Industrial Charge Amplifier with IO-Link technology is the smart amplifier for modern industrial applications such as robotics, packaging industry, or food and beverage industry or OEMs. The smart amplifier combines analogue and digital communication technology and paves the road for industry 4.0.
Thanks to its standardized interfaces, the 5028A can be integrated into virtually any manufacturing environment with IO-Link capability. The new device is also highly suitable for strictly regulated sectors such as medical technology because all changes to settings are saved and can be verified at any time.
Features:
Versions for 500, 5'000, 50'000, 500'000pC

Adjustable analog output 4…100% of measuring range

Bandwidth ≈ 0 kHz to 6.25 kHz

Connector KIAG 10-32 UNF neg.

Interface: IO-Link

Settings: filter, time constant, scaling, etc.

Optional Cable for piezoelectric sensors with one single measurand.
---

To find out more about Kistler products, please click here.

For additional information please contact FLW Southeast sales@flwse.com