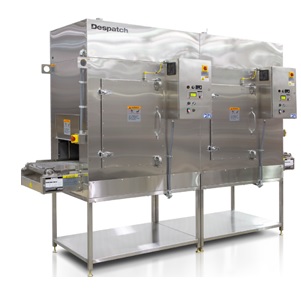 September 2020 MARIETTA, GA ~ ~ ITW EAE, a division of Illinois Tool Works, is excited to announce the much-anticipated redesign of the Despatch PCC1-40 conveyor oven. With built-in HEPA filtration (Class 1000), this feature-rich oven can be shipped in eight weeks or less.
The PCC1-40's stainless-steel interior and exterior, along with all interior seams, are back welded to prevent migration of insulation particles from entering the oven workspace. That gives you a more pristine chamber that is easy to clean and maintain.
The Despatch PCC1-40 is designed with built-in flexibility. The conveyor opening has an adjustable slide gate that can be easily lowered to prevent heat loss. And, of course, it can be raised for larger parts. The entrance and exit length of the conveyor can be adjusted by shifting the conveyor without changing the conveyor's overall length. You can also order theCC1-40 in an end-to-end configuration to provide an additional heating zone.
"Customer needs vary widely, and they often don't have time to wait for a custom build," states Jeff Bell, Despatch Product Manager. "We design our standard product offerings to meet the needs of the majority of our customers which drastically reduces lead time and ensures the highest quality."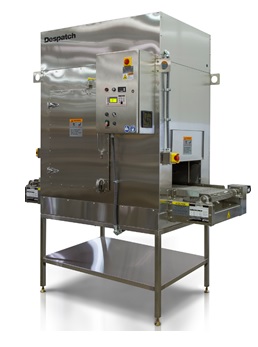 The PCC1-40 has a four cubic foot chamber (18" x 42" x 9") and a maximum operating temperature of 500°F. A stainless-steel perforated supply plenum provides an even distribution of vertical down airflow for superior temperature uniformity on all interior parts.
Despatch is a brand of ITW EAE, a division of Illinois Tools Works, Inc. They are a global leader in high performance industrial ovens and other thermal products used for a host of critical applications, focusing on the electronics, healthcare, materials, transportation and industrial markets. Despatch also serves as a key provider of integrated technology for the emerging solar and carbon fiber markets.

For additional information on Despatch ovens, please click here.  



If you would like to discuss your application and receive a product recommendation, please e-mail sales@flwse.com