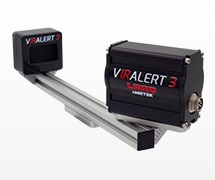 May 2021 MARIETTA, GA ~ The US Food and Drug Administration (FDA) has warned against using thermal imaging systems to screen multiple people at the same time.
The agency has also said it will not tolerate the marketing of "misbranded and adulterated products."
The news vindicates the approach taken by AMETEK Land's VIRALERT 3 Temperature Screening System, which scans one person at a time, using automatic face detection to locate the best areas for temperature measurement.
The FDA has also issued hundreds of warning letters to "firms marketing unapproved, uncleared, and unauthorized thermal imaging devices intended to measure human body temperature."
VIRALERT 3 meets all the requirements currently set out by the FDA and similar authorities, so has avoided any action of this type.
The VIRALERT 3 provides instant infrared thermal imaging from a safe distance, monitoring skin temperature for elevated temperatures that could indicate infection. It takes a reading that's accurate to within 0.5oC, then calculates core body temperature.
The system is designed to screen visitors without slowing the flow of people, scanning temperatures without any person-to-person contact, therefore avoiding the increased risk of close contact required when measuring with a handheld thermometer.
To ensure the highest levels of accuracy and reliability, it has a blackbody calibration source fitted on the same platform as the integrated thermal imager/visual camera.
FDA best practice advice states: "Measure only one person's temperature at a time. To date, these systems have not been shown to be effective or accurate when used to take the temperature of multiple people at the same time. As such, they should not be used for 'mass fever screening.'"
Christopher Leonard, Global Lead VIRALERT from AMETEK Land, said: "Great care has been taken to ensure that our marketing and labelling of the VIRALERT 3 system has been accurate and complies with all relevant regulations. The latest statement from the FDA supports this. It means VIRALERT 3 customers can be confident that they are getting the system they expect, ready to carry out the job they have purchased it to do."  

For more information on AMETEK Land's VIRALERT 3, please click here.




For additional information or a product recommendation, please contact FLW Southeast at sales@flwse.com