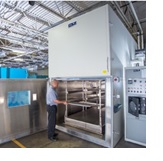 June 2021 MARIETTA, GA ~

Vertical Thermal Shock chambers consist of two separately controlled hot and cold zones. Product is transferred between these zones for rapid product temperature changes. Thermal Shock Chambers are designed to perform tailored environmental stress screening of component and board level electronic assemblies. The return on investment in both actual savings and customer confidence adds greatly to the value of electronic assemblies screened in a CSZ thermal shock system.

Features:
CSZ EZT-570S Touch Screen Controller

Ethernet monitoring & control

RS-232, RS-485 serial communications

Door Safety Interlocks

Traveling Cable Port
Model : VTS-9: 9 cu. ft. (255L) each section
CSZ can also custom-design larger sizes to meet your testing needs.
Temperature Ranges:
Hot Chamber: 115°C to +210°C (239°F to +410°F)
Cold/Hot Chamber: -75°C to +190°C (-103°F to +375°F)
Chambers meet the unique requirements of the following specifications: JESD22-A104-B | MIL-STD 883G, Method 1010.8 | MIL-STD 202F, Method 107G | MIL-STD 810G, Method 503.5. The cold chamber zone will also perform as a fully functional, independent environmental test chamber increasing the value of your investment.

For additional information CSZ's Thermal Shock Solutions click here

If you would like to receive information on a custom solution for your application, please e-mail sales@flwse.com