July 2021 MARIETTA, GA ~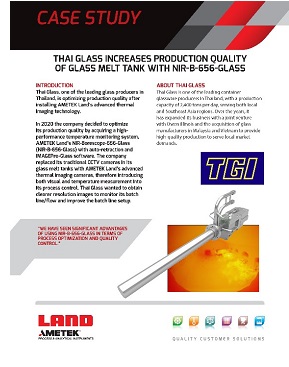 Thai Glass, one of the leading glass producers in Thailand, is optimizing production quality after installing AMETEK Land's advanced thermal imaging technology.
In 2020 the company decided to optimize its production quality by acquiring a high-performance temperature monitoring system, AMETEK Land's NIR-Borescope-656-Glass (NIR-B-656-Glass) with auto-retraction and IMAGEPro-Glass software.
The company replaced its traditional CCTV cameras in its glass melt tanks with AMETEK Land's advanced thermal imaging cameras, therefore introducing both visual and temperature measurement into its process control. Thai Glass wanted to obtain clearer resolution images to monitor its batch line/flow and improve the batch line setup.

For more information on AMETEK Land products, please click here.

For additional information or a product recommendation, please contact FLW Southeast at sales@flwse.com