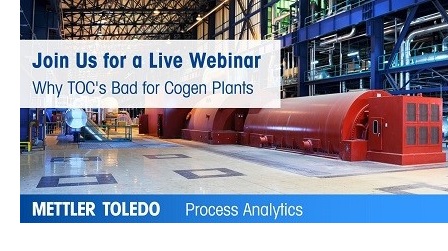 May 2022 MARIETTA, GA ~ One of the most overlooked contaminants in today's power generation and industrial cogeneration plants is Total Organic Carbon (TOC). This important measurement of organic contamination is key to reducing operating expenses and unplanned downtime.
The presence of TOC can lead to fouling of deionization resins used in water treatment and condensate polisher, resulting in:
Increased resin regeneration costs

Higher resin chemicals use

Labor required to restore capacity or replace resin
If these organics reach the boiler or HRSG, they deposit on and reduce efficiency of the heat exchanger surfaces, while often increasing the foaming in the boiler that will drive greater carryover of other contaminants into the steam and on to the steam turbine.
Presenter(s): Kirk Buecher
Duration: 45 minutes
5/25/2022 10:00 AM EDT [ English ]
5/25/2022 9:00 PM EEDT [ English ]