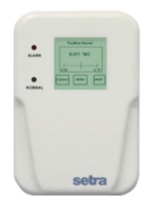 March 2015, MARIETTA, GA - Setra's Room Pressure Monitor, SRPM, was highlighted on the 'Saving Dr. Brantly' segment on NBC a few weeks ago, as it was installed on all of the isolation rooms at Emory Hospital in Atlanta.
On Wednesday October 22, Peter Howe from New England's News Station (NECN) came to Setra to interview David Carr, General Manager of Setra, to learn more about how Setra's line of Room Pressure Monitors can help prepare hospitals around the world for an epidemic, such as Ebola.
To watch the interview, CLICK HERE.
Being prepared for an epidemic shouldn't be taken lightly. Hospitals need to be sure they have the proper monitoring systems in place to protect both the patient and the rest of the hospital. Setra's Room Pressure Monitors, specifically the SRPM, is a perfect example; this product monitors the differential pressure in isolation rooms and alarms locally & remote personnel if anything has been breached. This is the most critical piece of isolation room equipment because if it is not working correctly, contaminated air could be unknowingly spread throughout the facility.
In a hospital, laboratory or animal research facility, the integrity of the ventilation control system is at the heart of a contaminant free environment. Whether a room is to be maintained at a negative pressure to prevent contaminants from escaping into adjacent areas or positive pressure to protect patients with compromised immune systems, the proper pressurization of the room is essential. To assure proper pressurization is maintained in these critical environments, a room pressure monitor is employed to measure and alert staff and personnel of any change in pressure—no matter how small. A fail-safe solution to monitoring these very low pressure changes is Setra's Model SRCM Room Pressure Monitor, which utilizes highly accurate capacitance sensing technology to measure and display true low pressure differential.

To View the Online Demo CLICK HERE.
FEATURES
True Pressure Measurement
High accuracy Setra low differential technology

Dead ended solution —no contamination or clogging

Standard on-board sensor and optional remote sensor
Display 4 Ambient Parameters
Pressure, Temperature, Humidity, User-Defined (ex., CO2, LUX)
Flush Mount Design
No visible mounting fasteners

Snap-in flush bezel

Face is sealed for cleaning or wipe-down
Full Banner Feature
Utilize same monitor for room condition

Clearly display condition with facility specific nomenclature
Clone Feature
Display rotates up for access to USB port

On-board USB port—cloning of configurations for multiple unit installation
BACnet® Communications
Installed or field upgrade for in-situ installation

BACnet

MSTP/ASC

All setups configurable through touch screen display
Alarm Capabilities
Local Audible and Visual alarming

Remote annunciator alarming capability

Alarm delay feature—prevent nuisance alarms
Ease of Installation
Mounts in off-the-shelf electrical gang box

4-screw self-leveling mount