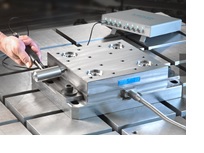 Accurate, Flexible, Easy To Use
January 2020, MARIETTA, GA ~ The Kistler LabAmp® 5165A and 5167A are universal laboratory charge amplifiers for measurement of force, acceleration, pressure, reaction torque and strain using piezoelectric sensors. The dual-mode charge amplifier 5165A measures dynamic PE and IEPE signals as well as static/dynamic voltage signals where the 5167A measures both quasi-static and dynamic signals from any piezoelectric sensor.
The Kistler LabAmp provides low-noise measurements with flexible signal conditioning as well as powerful data acquisition with high fidelity data directly to a host computer for further analysis.
Multiple LabAmp charge amplifiers can be connected and synchronized without any additional wires. For example, digitized quasi-static forces from a piezoelectric dynamometer can be simultaneously measured with dynamic IEPE accelerometers. This makes the LabAmp product family a modular data acquisition system.

High signal quality
Low noise

24bit A/D conversion

Very flexible filter section

High sample rates selectable

Versatility
5165A: Universal inputs (charge, IEPE, voltage)

Wide application range (frequency & charge range)

Analog or digital use

Fully flexible analog output scaling

Virtual channels for real-time calculations

Scalable to high channel counts

Simple & quick setup
No separate data acquisition device needed

Intuitive user interface

Up-to-date communication interface

Simple wiring thanks to integrated Ethernet Switch
---

For additional information on Kistler's LabAmp click here

For additional information please contact FLW Southeast sales@flwse.com