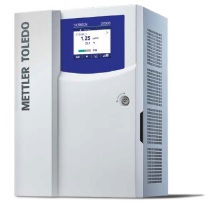 September 2020, MARIETTA, GA ~
Do More with Less
This 3-in-1 water chemistry solution features fast, reliable silica analysis, integrated phosphate measurement and a built-in sequencer, allowing you to do more with a single analyzer. Maximize uptime and achieve superior performance in this compact analyzer with intelligent diagnostics. Make the most of valuable panel space by implementing or upgrading to this compact, spacesaving analyzer, that allows you to expand your analytics without expanding your budget.
Discover the 2850Si Silica Analyzer:  

www.mt.com/2850Si

Small Footprint, Greater Functionality
The 2850Si silica analyzer delivers silica and phosphate analysis in a compact and robust design for maximum operational flexibility. 3-in-1 multi-stream silica and phosphate capabilities allow you to do more than ever before with a single analyzer.
Achieve Low Total Cost of Ownership
Using 75% less reagents, a single 2850Si silica analyzer does twice the monitoring with sub-ppb silica and ppm phosphate analysis for power plant chemistry, reducing overall reagent consumption and operating costs.
Eliminate Complexity with Intuitive UI
The 2850Si silica analyzer has a built-in M800 Transmitter. The intuitive user interface guides you through quick setup and allows you to create shortcuts. Easy configuration helps meet specific display needs and simplifies training and operation.
Simplify Your Maintenance Strategy
Monitoring of reagent usage and tube/filter status with Intelligent Sensor Management (ISM®) enables proactive inventory and service planning. Simplify maintenance further by using METTLER TOLEDO expert services to ensure optimal performance throughout the life of the analyzer.
---

Request additional information or to recieve a quote, contact FLW Southeast: sales@flwse.com