December 2019, MARIETTA, GA ~ The METTLER TOLEDO Thornton 3000CS Analyzer is a reliable on-line instrument designed to directly measure chlorides & sulfates in pure water and power cycle chemistry.

Measurement Technology to Help Minimize Corrosion
To reduce the rate of pitting, tuberculation, stress-corrosion cracking, and other forms of corrosion, and for monitoring anionic contaminants in ultrapure water (UPW) for feeding boilers and powering steam turbines.
Traditionally, ion chromatography (IC) has been used to ascertain sulfate and chloride levels in UPW and steam, but shortcomings in this technology have led to power plants seeking alternative measurement methods. Microfluidic capillary electrophoresis (MCE) provides a convenient, dependable method for trace-level chloride and sulfate monitoring.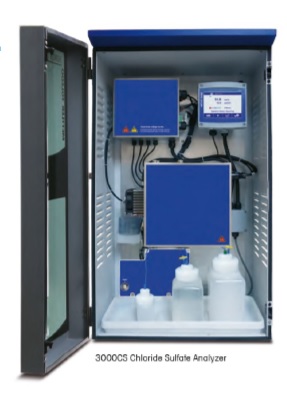 Features / Benefits
Intuitive touchscreen interface: allows display of trendlines for each measurement

Simultaneous display of ion concentrations and measurement timing: provides convenient analyzer status at a glance, saving operator time

Analog outputs with choice of scaling: enables easy integration into data acquisition systems

Convenient grab sample capability: allows measurement of additional samples or for QC checks

Full enclosure: protects reagent containers and components from plant environment

Typical Applications
Steam quality monitoring at turbine inlet to ensure chloride and sulfate levels are under acceptable limits.

Condensate monitoring at condensate polisher, to detect breakthrough or deterioration of sulfonated cation resin.

Boiler feedwater monitoring, to activate boiler blowdown if needed to control contaminant levels.

Makeup water quality.

Reduce Costs with On-line Chloride & Sulfate Analysis
The complexity of IC instruments makes their total cost of ownership significantly higher than MCE technology that is used in the 3000CS Chloride/Sulfate Analyzer.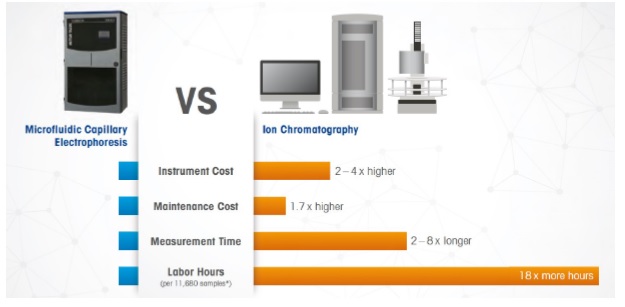 ---

For more information: www.mt.com/3000CS



To request additional information please contact FLW Southeast sales@flwse.com