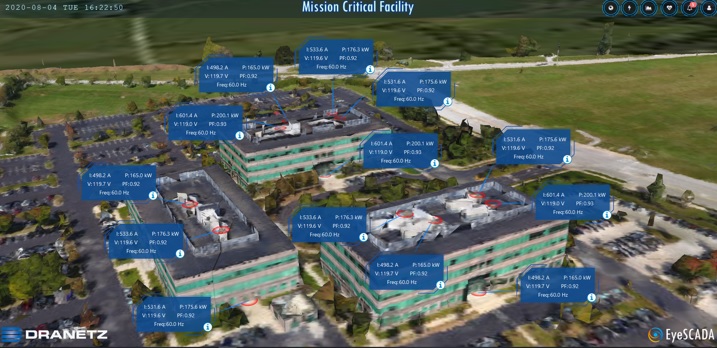 January 2021, MARIETTA, GA ~
Dranetz Technologies, Inc., a leading manufacturer of power monitoring instrumentation, software and associated services is pleased to announce new, modern graphical HMI/SCADA software.
DranSCADA is HMI/SCADA software that is built on a new, ultra-modern, visually pleasing platform. The features and benefits of DranSCADA include:
Web based and secure

High quality, high fidelity zoom-able graphics

Interactive 2D and 3D views

Trending & alarming for any data point, including waveforms

Native cloud support

Open platform

Customizable for any application

Operating system agnostic (Windows, Linux, MacOS)

Compatible with all current Dranetz fixed products

Compatible with virtually any power or other meter using Modbus and other supported interfaces
DranSCADA is customized to the user's requirements and provides a visual representation of their monitoring system. By using Modbus and other common interface protocols, DranSCADA provides a visual interface to monitoring systems from Dranetz and most other meter manufacturers. Power, switching, breaker position, alarming and other monitored points are overlaid in real time over one-line diagrams, photographs and even 3D views of the facility. Trends of each monitored point are available to view readings recorded over time. All capabilities are available using just your web browser on any computer, smartphone or tablet!
DranSCADA is available in three editions to meet the needs of virtually any application – Standard, Professional and Enterprise.

For more information on DranSCADA, please click here.



Request additional information, contact FLW Southeast: sales@flwse.com