August 2019, MARIETTA, GA ~

The EasyClean 200e is fully automates rinsing and cleaning procedures for pH, ORP, dissolved oxygen, CO2, conductivity, and turbidity sensors greatly reducing maintenance requirements and improves performance.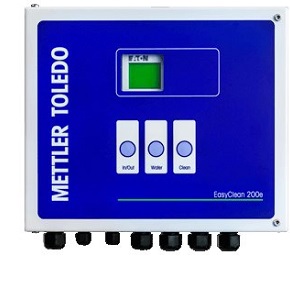 Fully automated sensor cleaning & rinsing procedures
pH, ORP, Dissolved Oxygen, CO2, Conductivity & Turbidity

Fast Return on Investment (ROI)
Reduces Labor Costs as Compared to Manual Cleaning

Prolonged sensor lifetime
Delivers Efficient Timed Cleaning Preventing Fouling

Optimal cleaning effect & efficient operation
Integrated Diaphragm Pump & User Adjustable Soaking Times

Increased operator safety
Reduces Exposure to Toxic/Hazardous Chemicals/Process
METTLER TOLEDO's wide range of analytical sensors allows you to improve your process efficiency and safety. The EasyClean automated sensor cleaning systems increase sensor lifetime, lower maintenance costs, and reduce personnel exposure to hazardous conditions.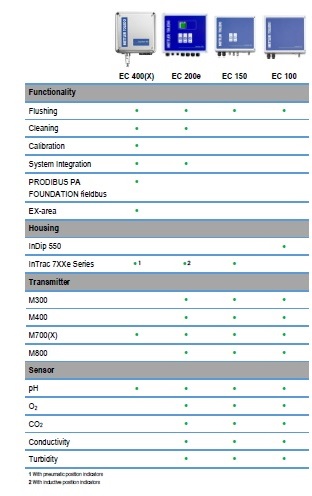 METTLER TOLEDO EasyClean System Solutions Designed to Meet your Requirements
EasyClean 400:
Flexible, for Highest Demands
Fully automatic cleaning & calibration system reduce the maintenance costs of pH measuring points to an absolute minimum. EasyClean 400X has been developed especially for explosion hazardous areas and is available in stainless steel and powder coat housings.
EasyClean 200e:
Fully Automated Rinsing & Cleaning
Flushing of sensors with water & additional cleaning with cleaning agent in applications with potential for heavy contamination to sensors.
EasyClean 100 & 150:
Automated Sensor Flushing & Cleaning
Automatic flushing of sensor with water or air or InTrac retractable housing (EC150/InTrac 7XX) or open basin (EC100/InDip 550) applications.

Request additional information or to better discuss your application, contact FLW Southeast: sales@flwse.com

For additional information on Mettler Toledo Process Analytics, please click here.