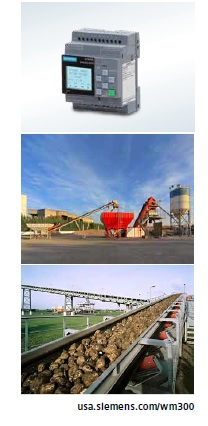 December 2019, MARIETTA, GA ~ A rugged early warning system for your plant, motion failure alarms (MFA) alert you to potential problems in your operations before they occur or develop into something more serious. Introducing SITRANS WM300 MFA, detecting changes in the motion and speed of your rotating, reciprocating, or conveying equipment. It warns of machinery malfunction and signals to shut down processes in case of a slowdown or failure. This versatile unit excels in a variety of applications: tail pulley shafts, driven pulleys, motor shaft sensing, belt or drag conveyors, and fans and machines. In the mining, aggregates and cement industry, for example, SITRANS WM300 MFA monitors bucket elevators and screw conveyors for continuous conveying. And in the food and beverage or chemical industries, the alarm monitors mixers to ensure non-stop operation. This space-saving device replaces many older MFA style controllers, reducing both your wiring time and the space required in cabinets.

Ideal for the mining, cement, and wastewater treatment industries

Compact, rugged and reliable motion failure alarms from Siemens are economical investments with a large impact

Small, compact device that reduces wiring time and space required in cabinets

The ability to monitor multiple machines at once with twin

Independent probe inputs

Two extra inputs for differential speed detection.

Analog output module (optional)
---

For more information: usa.siemens.com/wm300

To request additional information please contact FLW Southeast sales@flwse.com