February, 2020 MARIETTA, GA ~ The AR100 group of laser position sensors is Acuity's most compact series of triangulating laser displacement sensors. The unit uses laser triangulation principles to accurately measure at high speeds. The mini enclosure houses models with ranges from 10 to 500 mm and are available with the optional BLUE laser diodes.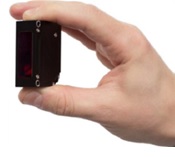 These sensors are perfect for non-contact distance measurement in narrow spaces, as well as checking position, displacement, dimensions, surface profile, deformation, vibrations, sorting and sensing of technological objects. They also work well for measuring levels of liquid and bulk materials.
All models are standard with Analog and Serial outputs to be easily integrated into every application. Additionally, these laser sensors can be programmed using serial commands through a PC computer.
Range from 10 mm to 500 mm

Resolution of 0.01% across the entire measurement span

Linearity of ±0.05% of the Full scale range

Maximal sampling rate 9.4KHz

Standard outputs of Analog and Serial

Red & Blue laser diodes are available

For additional information on the AR100 click here

For application questions and pricing please e-mail sales@flwse.com