February 2020 MARIETTA, GA ~
Thermal curing is a critical step in manufacturing quality composite materials. Traditionally, most composite parts required autoclaves for proper curing. Today, low cost out-of-autoclave curing of aerospace-grade composite parts is possible using a vacuum bagging system with a walk-in batch oven. The process is precisely controlled and monitored to ensure void-free composite parts.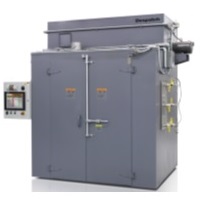 Despatch provides complete composite curing systems that include a custom configured oven, integrated multi-port vacuum system, and Focal Point Process Controller. The system meets AMS2750, BAC5621, NADCAP and AS9100 requirements and has been utilized by the world's leading aerospace manufacturers.
Airflow is a critical factor in achieving uniformly cured composite parts and no one has more experience with the dynamics of thermal airflow than Despatch! Their ovens are known for exceptional temperature uniformity and their proprietary Focal Point Control System has been specifically designed to provide the process control, data acquisition and reporting needed for complex composite curing.
FEATURES AT A GLANCE

Oven with tight temperature uniformity, +/-5°C or better
Jack panel thermocouple arrays to fully monitor product
Vacuum ports can be added for easy connection
Focal Point™ fully controls the curing process and documents all process information
The Despatch composite curing system offers an integrated, multi-port vacuum system and jack panels to connect as many thermocouples as needed for monitoring the curing process. Mold preparation, including preheating, drying and cleaning processes, can also be provided.

Vacuum ports, filters and valves are constantly monitored by the Focal Point controller to detect leaks and ensure a consistent pressure on the part. Vacuum pressure is monitored and recorded throughout the cure cycle.
Parts cured in a Despatch composite curing system have been proven to be void-free and meet the highest standards of the aerospace industry.

For more information on Despatch Industries' composite curing system click here

For a product recommendation please e-mail sales@flwse.com