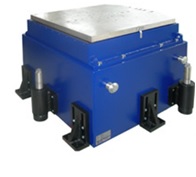 March, 2020 MARIETTA, GA ~ Two types of slip table are available; a Uni-base concept provides a structural steel body to align the shaker and table on a rigid platform, while a standalone slip table design allows the feasibility of any vertical shaker from ETS or other manufacturers to couple with the slip table assembly.
All slip tables are designed with a precision ground natural granite slab with a selection of guidance bearings to meet different applications and budgets. Slip tables can be provided in almost any size from 12 in (300 mm) square for small shakers to 8 feet (2.5 meter) square for the larger shaker systems. Different types of restraining bearings are available to meet different application requirements and operating budgets.
The GT Series oil film tables are designed with general-purpose V-Groove bearings, combined with a magnesium or aluminum slip plate. Oil is supplied through portholes in the granite slab and is dispersed throughout the underside of the slip plate. The oil film provides a low friction surface, a damping medium for restraint of resonances, pitch and roll moments. Yaw restraint is provided by the V-groove guide bearings combined with the armature guidance system.
GT Series guide bearings are primarily designed for use with ETS Uni-base shakers but are available for any existing or new shaker.
Light weight magnesium slip plate

Economical aluminium slip plate available

Self contained oil reservoir with filter

Yaw restraint provided by V-groove guide bearings combined with the armature guidance system

Less expensive technique to perform horizontal testing

To review the GT Series Slip Tables click here

For a product recommendation, please e-mail sales@flwse.com