April, 2020 MARIETTA, GA ~

Fitting in the palm of your hand, the Acuity AR500 is ideal for builders of compact machines and systems. This laser position sensor uses optical triangulation principles to accurately and quickly measure distances to targets. Available with many different diode options, the AR500 can measure to nearly any kind of target: dark, shiny, bright, opaque, translucent, etc.

The AR500 comes standard with RED visible laser diodes. The shorter-range models require lower-powers and meet Class 2 laser requirements. The longer-range models are Class 3R and can be ordered with optional high-power Class 3B diodes for measuring black surfaces. As an option, all sensors can be ordered with different powers of 405 nm BLUE laser light and are ideal for measuring to glowing-hot targets, polished metals and glass.

   Highlights:  
Range from 5 to 1000 mm

Speed up to 9,400 Hz

Resolution of 0.01% of range

Available with optional blue laser diodes

Operating Temp: -10 to 60°C [14 – 140°F]◦-30°C with optional heater; to 120°C with optional air-cooling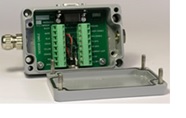 The AR500 laser position sensor comes with an un-terminated bundle of solder tail wires in a shielded cable. As an option, you can add a connectivity interface which provides a terminal block connection to the sensor cable. A second terminal block in the interface box allows user connections as needed.

To obtain more information on the AR500 and review additional features click here

For assistance selecting a position sensor, please e-mail sales@flwse.com