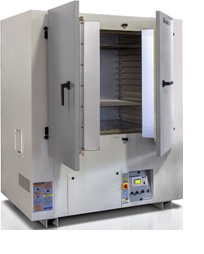 June 2020 MARIETTA, GA ~ Despatch Industries provides infrared firing and drying furnaces to the world's leading solar cell manufacturers so that they can produce the highest efficiency cells. Despatch collaborates with major industry players, providing equipment worldwide. Applications include heat treating materials for both the automotive and energy storage industries.
The RAD and RFD cabinet oven features horizontal recirculating airflow and exceptional temperature uniformity. The result is proven reliability in demanding production and laboratory applications, such as curing, drying, stress relieving, aging, UL testing and other process-critical applications. The high-performance reach in oven delivers temperatures up to 343°C (650°F) and four models from 4.2 to 35 cu ft (117 to 991 liters) to meet your needs.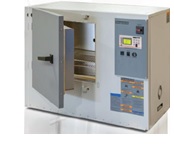 The RF Class A cabinet oven is specifically designed to meet NFPA 86 requirements for applications that include flammable solvents or large amounts of moisture removal. The Class A ovens are complete with a pressure relief panel, purge timer, and exhaust fan. The RFD1-42 Class A Benchtop Oven is a popular oven due to its size and capabilities. With its benchtop design and small footprint, it is ideal for small production and laboratory Class A applications.

Standard Features:
Temperatures up to 343°C (650°F) (Models available with temp. up to 537° (1000°)

Three models from 4.2 to 35 cu. ft. (119 to 991 liters)

Horizontal recirculating airflow

Protocol 3™ control with large LCD display, integrated data logging capabilities and USB port for simple oven set-up and data export

Multiple temperature operations are controlled by up to eight programs, with eight ramp and soak segments in each program.

Aluminized steel interior

5-year heater warranty

End of cycle and high-limit control

UL and C-UL listed open industrial control panel

For more information on Despatch ovens, please click here.  



If you would like to discuss your application and receive a product recommendation, please e-mail sales@flwse.com