June 2020, MARIETTA, GA ~

You don't need to design a new DAQ system from scratch. Instead, you can integrate more advanced testing and technology concepts into your existing interfaces and legacy systems – sustainable and cost-effective!

Sounds easier as it actually is? You are 100% right, because integration of advanced technology into existing systems can be tricky.

Here is some advice on what you should consider when choosing advanced test and measurement technology for integration and what makes it a lot easier.

1. Connectivity
Look for solutions with open interfaces for easy integration with EtherCAT, Modbus, OPC UA, MQTT, Python, and 3rd party software such as LabVIEW for quick data access.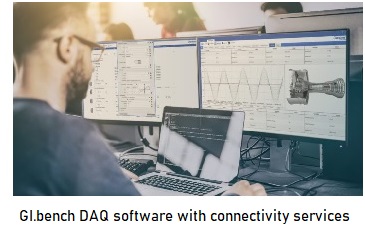 You likely already use proprietary test cell control and test management software and don't want additional software to manage and support. GI.bench is a modular software suite of smart subsystems that helps to address data acquisition (DAQ) disciplines as needed. It can manage your DAQ application as a stand-alone visualization, configuration, and data management tool. You can also select services for configuration and data acquisition and use the open APIs to connect the system to your existing software and visualization platform.
With Gantner's GI.bench data processing service, your software solutions can benefit from Gantner's advanced data handling by accessing continuous, triggered, and post-processed data streams via open API interfaces. Even the potentially complicated process of configuring advanced analog or arithmetic channel settings can be performed through XML-RPC protocols and Gantner's libraries. Configuration changes can directly be written to the I/O modules using 3rd party software.
2. Obsolescence Management
Integrate old equipment and regroup existing assets: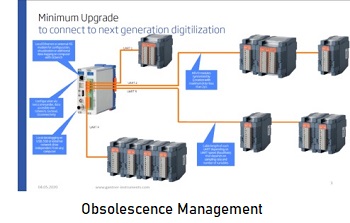 Keep your Legacy systems and use Gantner as a gateway to new DAQ to profit from all its unique benefits.

Drivers are available for use with existing interfaces, e.g., Modbus, for easy integration with legacy systems.

Use smart edge devices (e.g., Q.station X) to collect data from legacy I/O's and integrate into modern DAQ – use Gantner as a gateway to the future of measurement.
3. Legacy Hardware Support and a Migration Path Forward
A significant benefit if you are already a Gantner Instruments' customer is the possibility of integrating new versions of our hardware with older versions (backward compatible) and existing 3rd party (legacy) data acquisition systems. Gantner's data stream processing platform exchanges all relevant data with the desired test software if synchronized through a Gantner controller.
Click here to continue reading this article...

To learn more about Gantner Instrument's data acquisition, please click here.

To request additional information or schedule a demonstration, contact FLW Southeast sales@flwse.com