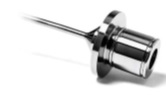 July, 2020 MARIETTA, GA ~ Kaman's high temperature products were initially designed for NASA and the nuclear power industry whose rigid standards required high reliability, accuracy, and structural integrity. The same engineering skill and technology that went into Kaman's +2,000°F microphone for measuring the dB level of jet engine exhaust noise, in the exhaust, went into the design and manufacture of this superior line of high temperature products.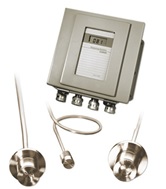 Kaman developed advancements in the high temperature displacement sensor to measure steam turbine shaft runout in nuclear power plants. They are also used to measure nuclear fuel rod position/vibration, since these inductive sensors are unaffected by radiation and most other environmental contaminants.
This specialized line of high temperature sensors features precise operation at up to 1,000°F continuous and +1,200°F short term. They have resolution and repeatability comparable to Kaman's conventional line of high precision systems. All of Kaman's high temperature transducers are made with sealed, all laser-welded Inconel housings and use metal jacketed, mineral-insulated cable.
Features:
For applications requiring high accuracy, high reliability, and structural integrity

Operating temperatures from -320°F to +1,000°F (+1,200°F short term)

Displacement systems withstand pressures up to 3500 or 5000 psi

Dual-coil sensor design effectively minimizes radiation effects

Hermetically sealed and laser welded

Unaffected by environmental contaminants
---

For more information on Kaman Precision Products click here

If  you want to discuss your application or for a product recommendation, please e-mail sales@flwse.com