Sherborne Sensors Aerospace Solution for Unique Challenges with the WTS Wireless Sensor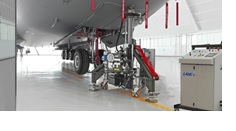 September 2020 MARIETTA, GA ~

Equipment manufacturers required to measure the angle of an aircraft body in x and Y direction when lifting the body off the ground previously used a wired dual axis inclinometer connected with a cable to the control unit.

Sherborne Sensors offers two WTS Series wireless sensors whose aerospace applications include pre-flight calibration, floating pontoons, and tarmac level measurement. The WTS Wireless Tilt System is a flexible, all-weather radio telemetry system designed to provide high accuracy remote angle measurement data. The WTS gives structural engineers the ability to record and log data remotely without the cost and inefficiency of traditional wired methods.

Features:
Advanced MEMS inclinometer design for ultra-reliability and performance

Distortion-free digital 2-way radio system for data integrity

Very low power consumption for long battery life

Worldwide license exempt 2.4 GHz radio

Option of handheld remote display or PC interface for data capture

Remote power on/off (sleep/wake)

>100 metre range

Multi-channel operation

To learn more about Sherborne Sensors WTS Series sensors and Aerospace applications, please click here.



For additional information or a product recommendation, please contact FLW Southeast sales@flwse.com