May 2021, MARIETTA, GA ~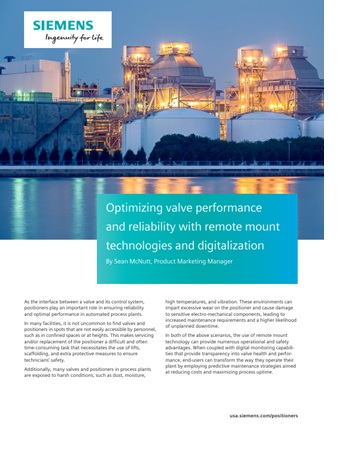 How to plan for unplanned downtime.
Although planning for unplanned downtime seems ironic, this is an important step that all automated process plants need to take into consideration. It's not always possible to keep your instrumentation, particularly positioners, in ideal operating environments that are easily accessible. If your plant is exposed to harsh conditions like dust, moisture, high temperatures, etc., you may be required to perform maintenance on your valve positioners more frequently.
So how can you ensure that you don't lose time when you're servicing or replacing positioners?
Using remote-mount technology can provide numerous operational and safety advantages for valves and valve positioners in process plants.
Learn how you can optimize your valve performance with remote-mount technology.
---

Want to learn more about Siemens Smart Positioners? please click here.

For additional information or a product recommendation, please contact FLW Southeast at sales@flwse.com