June 2021, MARIETTA, GA ~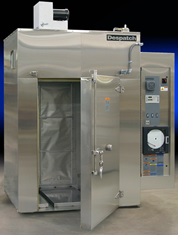 A medical device manufacturer needed a large clean process oven for curing catheters. Despatch modified a standard TFD2-52 walk-in oven with a stainless-steel interior and exterior to meet the customer's needs.
Despatch understands the unique configuration requirements needed for efficient thermal processing of catheters. They designed tall batch ovens that allow for hanging long catheter tubes in the oven. The Despatch conveyor oven has a clam-shell configuration that allows just the distal end of the catheter to pass through the oven. A slotted batch oven also provides a solution for applications where only one end of the catheter needs curing.
Despatch TFD Class A ovens are specifically designed to meet NFPA 86 requirements for applications that include flammable solvents or large amounts of moisture removal. The oven comes complete with a pressure relief panel, purge timer, and exhaust fan.
---

For more information on Despatch product, please click here.

For additional information or a product recommendation, please contact FLW Southeast at sales@flwse.com