July 2021, MARIETTA, GA ~
Gantner Instruments recently tested their Q.bloxx XL A104 TCK in the climate chamber at -40°C ambient temperature, and it does a perfect job under these extreme conditions!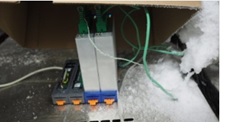 The Q.bloxx XL A104 TCK provides 8 channels for thermocouples (here as Type K, NiCr/Ni) with standard miniature front sockets.
During a day in the climate chamber at -40°C, the I/O module was entirely frozen. However, after connecting a power supply, the I/O module was delivering stable and precise measurement values.
As the temperature increased, it passed the dew point. No impact observed on the measurement quality from condensation during this phase.
The I/O module passed this test successfully – even when the datasheet recommends only -20°C operating conditions.
Q.bloxx XL is a new addition to the Q.series product family - the ideal DAQ solution for widely distributed installations that require higher performance and custom sensor terminations. Q.bloxx XL products are packaged in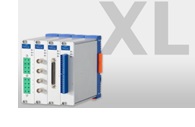 modular, DIN Rail mountable enclosures that easily snap together for system expansion. Flexibility in distribution allows for highly synchronized data that is less prone to noise due to shorter sensor cable runs to the subject.
Q.bloxx XL A104 TCK - Thermocouple and Low Voltage Measurement Module
Key Features
8 analog input channels - thermocouple (type B / E / J / K / L / N / R / S / T / U), voltage (±80 mV)

High-accuracy digitization - 24-bit ADC, 100 Hz sample rate per channel, 50/60 Hz mains rejection

Automatic linearization correction - optimal position of the interpolation points adjusted to the input range

Simplified wiring - direct connectivity with mini-TC plugs, built-in cold junction compensation

Open thermocouple detection - detect broken wire, loose connection or thermocouple burnout

3-Way galvanic isolation - 100 VDC channel to channel, 500 VDC channel to power supply and bank

Electromagnetic compatibility (EMC) - according to IEC 61000-4 and EN 55011

For More information on Gantner Instruments' XL A104 TCK click here.

For a product recommendation or demonstration, please e-mail sales@flwse.com