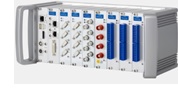 September 2021, MARIETTA, GA ~ There are many reasons for a flexible and robust measurement system that must be easy to transport to collect measurement data at different locations. These can be, e.g., short-term measurements on machines or plant components during commissioning after maintenance or recurring measurements on bridges or other engineering structures.
Ideally suited for this requirement is Gantner Instruments' Q.brixx system – a high performance, rugged mobile data acquisition system. The Q.brixx system takes Q.series' functionality and delivers it in a scalable and portable

package housed in a rugged aluminum enclosure. Several I/O module types are available, allowing you to "mix and match" measurement features with your application needs. Up to 16 modules can be added to the Q.brixx XL system, including a test controller, measurement modules, and many flexible signal conditioning options.
For a straightforward setup and installation of the measurement, they offer both customer- and sensor-specific connectors. With the supplied sensor's pin assignments, the sensor cable can be directly plugged into the Q.brixx. With the GI.bench software for easy setup, configuration, and visualization, each sensor can be scaled individually. If desired, our Q.series X I/O modules can be supplied with the corresponding sensor supply.
Each Q.brixx system is delivered in a padded bag. A desktop power supply is included, but a battery can be used for power supply if the system is to be completely mobile. The system can be operated autonomously for 4 hours via a standard 3500 mAh power bank.

For More information on Gantner Instruments' Q.brixx system click here.

If you would like to discuss your application, please e-mail sales@flwse.com