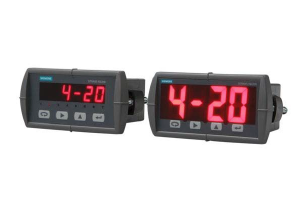 Siemens RD200 Universal Indicator
The Siemens SITRANS RD200 is a universal remote display for level, flow, pressure, temperature, weighing, and other process instruments. Data can be remotely collected, logged and presented from as many as 100 displays on your local computer using the free downloadable RD Software.
The display accepts a single input of current, voltage, T/C, and RTD. This makes the RD200 an ideal fit for use with most field instruments. The RD200 can be set up as a standard panel mount, or combined with optional enclosures to allow it to house up to 6 displays.
Additional product configurations are available. Please contact FLW Southeast for application specific model and pricing information.
Description
Price
Quantity
Add
---
---
---
---
---
---
Product Benefits
Easy setup and programming via front panel buttons or remotely using RD software
Display readable in sunlight
Universal input: accepts current, voltage, thermocouple, and RTD signals
Single or dual 24 V DC transmitter power supply
Analog to Modbus RTU conversion as standard feature
Two optional relays for alarm indication or process control applications
Linear or square root function supported
Meter Copy feature to reduce setup time, cost, and errors
RD software supports remote configuration, monitoring and logging for up to 100 displays
Other features include: 4 to 20 mA Analog Output Option, pump alternation control, and optional NEMA 4 and 4X
Field enclosures
Large display option for improved visibility at greater distances